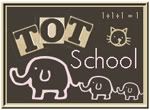 ((Hannah is 42 months))
((Danny is 18 months))
Theme: Pumpkins
The week leading up to Halloween we focused on pumpkin activities. However after looking through the pictures I took I realized I didn't really take any. I guess we were just having too much fun. Too bad though, because we really did a ton of print outs and a really cute craft. Here is what I do have though.
The start of our pumpkin craft, Hannah painted a paper plate orange, we cut out 3 triangles and a mouth from black construction paper for the face and then I traced her hand on green construction paper and glued it to the top for the stem. Super easy and super cute!
The finished product. Hannah was clearly channeling Picasso.
We printed a huge portion of this
Pumpkin Packet
. Hannah really dove into this packet, it really helped me see where she is at with comprehension.