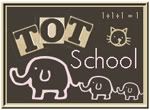 ((Hannah is 42 months or 3 1/2))
(( Danny is 17 months))
Theme: Caterpillars and Clowns
Bible: Adam & Eve
We had a fun couple of weeks with the letter C and Adam & Eve. Hannah is really enjoying tracing.
I finally remembered to take a picture of the books we read.
Again, one of the most fun activities that we did was the "C" page for the
Alphabet Art Book
. This week was car tracks for C. I got out some brown tempera paint and a truck with really neat tire tracks and Hannah had a blast. She pretty much asks to do this again everyday.
Then of course you cannot get a truck dirty and not wash it. She is currently also obsessed with the car wash and asks frequently if we can go, so we took the truck through the car wash. Having a utility sink really does come in handy.
The weather here has been sunny and dry which is unlike the NW at this time of year so we've tried to take full advantage by being outside everyday. Soon we will be stuck in the house everyday for months. Danny crawls the length of the yard and further if I let him. This is another reason why we can only go out on dry days because he HAS to crawl.
((linking up with
Tot School Gathering Place at 1+1+1=1
))