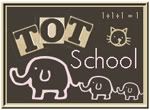 ((Hannah is 43 months))
((Danny is 18 months))
Theme: Thanksgiving
Well as part of my recurring theme on this blog, it's been forever since I've had a chance to sit down and blog. We had the holidays, busy life stuff, sick family, super sick me and then more holidays.
Once the holiday season hit it was just chaos. So I have a lot of catching up to do. I believe the I left off with Thanksgiving week Tot School activities so here we go.
Okay, so clearly I was busy just as I thought during Thanksgiving week because there are only 3 pictures. We did a ton of stuff that week though, so I guess I was just too busy doing activities to take pictures. Below is a picture that Hannah made at church.
Hannah did a ton of Thanksgiving print outs from
3Dinosaurs
.
We also read a ton of Thanksgiving books listed below.
That's pretty much all I can remember from that week. I'm sure there is more but a lot has happened since then.